I like my products as organic, as natural and as non-toxic as possible.  This is one area I am forced to compromise.  There are no perfectly non-toxic shoe options for children.  The compromise is comfortable children's shoes not made in China.
It is that time of season again… Time to get new shoes for the kids.  About two or three times a year we go through this process. Tedious and very tiring but it has to be done.
Here's what I do. 
Get Amazon Prime membership.  Trust me, you need it.  One of the perks is free two-day shipping and free returns on eligible items.  While I do not like to overuse the 'free-returns' option; kids shoe-shopping-season is when I take full advantage.  I usually order 5-6 pairs for each child and keep what is up to my standard.
How to get quality fit for a shoe
With this simple and very accurate shoe sizer you can determine current shoe size and I usually order 1 size up.  Chances are, one foot is longer (larger size) than the other so I add 1 size up to that foot…  The shoe will typically last all summer and early fall in the case of sandals, for example.
The main feature I look for is comfort – how easy is it for my child to walk and/or run in the shoe.  Does the child look comfortable or awkward.
Flexibility of the shoe sole.  Have you noticed that some children's shoe soles are stiff or hard as a board.  They do not bend at all!  A good shoe should bend easily where the toes bend when a child pushes off during walking.  Check out these videos showing where/how the shoe should bend.  If I cannot bend the sole with slight effort – in the return box it goes.
Tightness of the shoe.  The concern is mostly with snow boots but is true for all shoes.  If your child is old enough, they will express their discomfort.  For a little one; let the child walk around for good 10-15 minutes.  When you take the shoe off – look for reddening of the skin.  Any sign of a shoe cutting into the skin or generally being too tight around the ball of the foot or in the back – reddening or indents on skin.
Sharp objects, weird sewing/glueing/manufacturing defects.  With my hand I run throughout the interior of the shoe.  If something is poking me, or feels rough – that pair is out.  For example I had to cut edges of Velcro on my daughters sandal as the factory put too wide of a piece.  It was very stiff and could cut into her skin while walking.  The sandal was soft as a slipper, very comfortable, and well made except the width of the Velcro.
My preference is that a shoe does not have a strong odor.  This was the hardest for me…  Most shoes do have that "factory" smell.  Again…  I am compromising here…  A few days of laying open usually takes care of the problem leaving zero odor.
One last thing.  Surprisingly, not all shoes from same brand are made the same.  Meaning one sneaker or tennis shoe from Geox for example is not equal in comfort to another sneaker from the same brand.  That is why that Amazon Prime membership with free-shipping and free-returns is so useful.  Out of five or six pairs, one or two will be tried on.  The rest will not get that far as the sole will be incredibly stiff.
Children's shoe brands not made in China
Geox – made in Italy.  Buy Geox shoes here.
I just happens so that most of the shoes I bought were from Geox.  Not that this brand is better, it just happened so that Geox was more available and had better fit for that particular season.  The shoes are very well made, hold up for a whole season and will continue living out their lives as hand-me-downs.  And I absolutely love that most Geox is "lead, cadmium, chromium, nickel, carcino-genic and allergenic dyes, detergents and any other substance that has been classified as toxic, harmful or non-biodegradable." Lok for the TUV SUD mark.
Primigi – made in Italy or Romania.  Buy Primigi shoes here.
The company focuses on easy to wear, breathable, flexible and light childrens shoes.  The metal parts are nickel free and the leather is Chrome VI-Free.  They offer an Eco Shoe version that is made of plant-based raw materials, non-petroleum plant oils and water-based glues.  Primigi also came out with a new line called GORE-TEX for children who are constantly on the go.
Naturino – made in Italy or Brazil.  Buy Naturino shoes here.
The shoes protect and support children's feet, without restricting movement or growth.  The shoes adapt to the feet leaving them free to grow naturally.  The company collaborates with paediatricians to improve products regularly.
Ricosta – made in Germany and Portugal.  Buy Ricosta shoes here.
From Manufacturer: "RICOSTA has become one of the most popular and respected infants' and children's brands throughout Europe. RICOSTA and its infants' brand, Pepino, are unmatched in their commitment to offer unique shoes that will allow your child to be active, have fun and grow healthy. Environmentally certified (ISO 14001) and recycling over 95% of its waste materials, RICOSTA not only focuses on providing a perfect environment for your child's feet, but also on its responsibility to be a good steward of the Earth."
De Osu – made in Spain.  Buy De Osu shoes here.
De Osu works with small factories, using finest quality components.
Aigle rain boots – made in France.  Buy Aigle shoes here.
The rain boots are made of natural rubber and are lined with cotton.
Cienta – made in Spain.  Buy Cienta Shoes here.
From Manufacturer: "Dedicated to promoting the natural and correct development of children's feet, the entire production and design process of Cienta is centered on quality and comfort, making use of only natural materials and the most advanced technology."
Pajar – made in Canada but most recently in Romania.  Buy Pajar shoes here.
From Manufacturer: "The Pajar Canada Heritage Premium production is proudly manufactured in Montreal, Canada. These boots are 100% lined with genuine sheepskin and guaranteed to keep you warm in temperatures as low as -40 C. Our production facilities in Europe and Asia produce our Pajar Sport collections, which include very lightweight boots, complete with wool lining and a waterproof construction; as well as our top of line performance outerwear."
Stonz Winter Boots – This model, specifically, is made in Canada.  Buy Toddler/Little Kid/Big Kid here and buy sizes 5T-9T here.
These are light weight and easy to put on.  A big deal with a toddler.  Very warm, two times the industry standard for skid resistance.  They are also lead free, PVC free and the glue used is formaldehyde free.
Another honorable mention is Soft Star Shoes.  Made in USA.  These are probably as non-toxic as a child's shoe gets, but it is a matter of taste and function.  With older children these will not hold up.  With a baby or a young child, these would be my top choice.
Finally, it is all about the fit.  One season when my daughter was just 15 months, I went through 8 pairs of non-China made sneakers and all of them were sub-par.  So we went with Saucony tennis shoe.  It fit well, had a flexible sole, was comfortable to walk in but was made in China.   I also sometimes get Keens.  Say what you will, but sometimes a non-slip shoe is necessary.  Keens Seacamp II line has a flexible sole unlike others.  Also made in China of-course.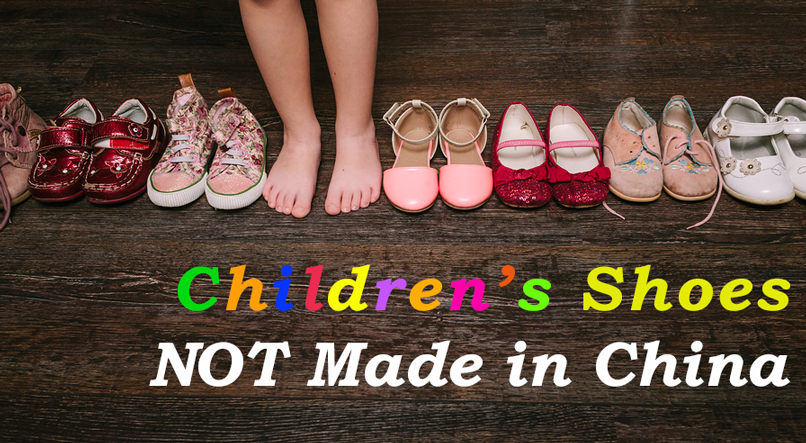 Feeling Lucky?
These models I have bought and kept.  Do they have it in your child's size?  Find out…
Boys Sneakers: Geox Pavel, and Geox Bernie
Girl Sneakers: Geox Bernie and Saucony Ride sneaker (made in china)
Boys Sandals: Geox Strada and these non-slip Keens (this model has the most flexible sole but made in China)
Girl Sandals: Primigi Ginessa, and Geox Verred and Primigi Maylea and these non-slip Keens (this model has the most flexible sole but made in China)
Boy Winter Boots: Stonz winter boots and (cringe) UGG waterproof boot
Girl Winter Boots: Stonz and Geox Overland