The search for good non-toxic mascara began for me in 2011.  I was pregnant and instinctively knew I should be using better, organic or at least plant based non-toxic and natural products.  …This was way before the many bloggers and review sites available today.  And way before natural products were popular.  The choices were limited and information scarce.
Pre-pregnancy and certainly pre-awareness, I used to frequent Sephora and one of my absolute favorite products was the Dior Show Black Out Mascara.  It did not clump, did not give me raccoon eyes, did not crumble and gave me Va-Va-Voom eye lashes.
What more can a girl ask for?  An organic or a natural version of-course!
Ten non-toxic mascaras later, I have finally found a comparable truly natural replacement to Dior Show!  Have no doubt, there are no green washers on my list; all are a variance of as natural as it gets.
This post contains affiliate links.  In this case it took years and hundreds of dollars to arrive at the cleanest product.   Please consider using my affiliate links.  The price is the same to you but I make a very small commission that helps with the upkeep of this blog.
See all of the products mentioned in this article
What is in Dior Show Black Out Mascara?
Ingredients: Aqua (Water), Paraffin, C18-36 Acid Triglyceride, Copernicia Cerifera (Carnauba) Wax, Bis-Diglyceryl Polyacyladipate-2, Palmitic Acid, Stearic Acid, Triethanolamine, Acacia Senegal (Acacia Senegal Gum), Cera Alba (Beeswax), Hydroxyethyl-Cellulose, Glycerin, Methylparaben, Phenoxyethanol, Tocopheryl Acetate, Disodium Cetyl Phenyl Ether Di Sulfonate, Butylparaben, Ethylparaben, Isobutylparaben, Propylparaben, BHT. +/- May Contain: Mica, CI 77491, 77492, 77499 (Iron Oxides), CI 77266 (Black 2), CI 77007 (Ultramarines), CI 75470 (Carmine), CI 77891 (Titanium Dioxide), CI 77289 (Chromium Hydroxide Green), CI 77288 (Chromium Oxide Greens).
According to searchable EWG Skin Deep database:
The RED ingredients are especially dangerous and are linked to Allergies/immunotixicity, Developmental/reproductive toxicity, Ecotoxicology, Biochemial or Cellular level changes, Endocrine disruption and others.
The ORANGE ingredients are also concerning, and have been linked to Organ system toxicity (non-reproductive), Cancer, Allergies/immunotoxicity, Irritation (skin, eyes or lungs), Developmental/reproductive toxicity, Endocrine disruption, Contamination concerns and others..
The GREEN ingredients are acceptable and pose no safety concerns.
And the BLUE, have no data.  That's no data on human safety, toxicity or environmental impacts.
Disodium Cetyl Phenyl Ether Di Sulfonate for example is not found in nature; there is no toxicology data: oral/parenteral, dermal or inhalation toxicity.  In cosmetics it is classified under cleansing agents, emylsifying agents, hydrotropics, surfactants.  Literally, we do not know anything about it and yet, it is approved for the most sensitive of population.  Apparently it is safe for products labeled free of preservatives, fragrances, and others… Innocent until proven guilty.
We have been down this road before – remember the (still) widely used endocrine disrupting BPA, the recently removed (but still allowed in some products) antibacterial and tumor promoting Triclosan or the hormone disrupting phthalates the government finally banned…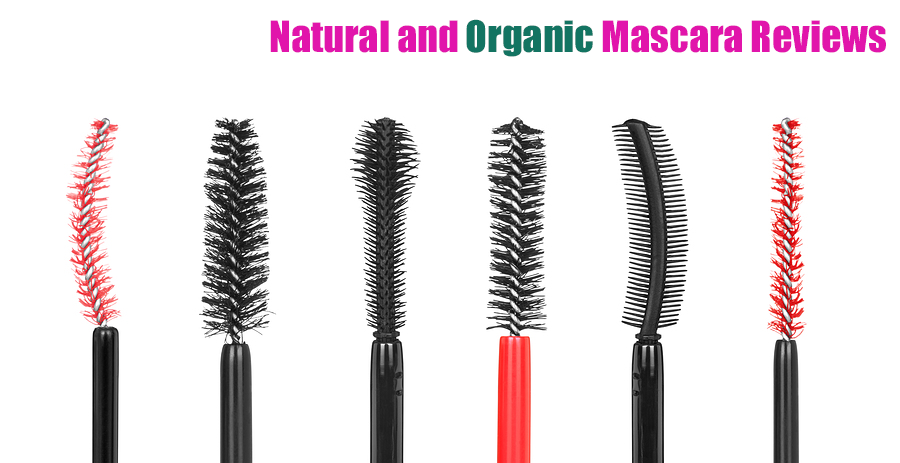 Natural and Organic Mascara Reviews
What I tried but was not quite right
Overall EWG Skin Deep Rating: 2       Individual ingredients: highest rated at 3       Full Ingredient Review
Comments: This was my very first natural mascara and I have returned to using it throughout the last three years.  It goes on smooth, lasts a long time but a bit too thin of an application.  It is a great first coat – a "primer" if you will but even with 2-3 applications, it was not enough volume for me.  I used ZuZu mascara as a primer and another mascara as a "top coat".   This is a fantastic  option for someone wanting to add color to what they already have.  No smudging or crumbling, a quality product but not enough volume.
Honeybee Gardens Truly Natual Organic Gluten-Free Vegan Mascara $12
Overall EWG Skin Deep Rating: 1       Individual ingredients: highest rated at 2       Full Ingredient Review
Comments: Goes on smooth, but again, too thin of an application.  Good first coat – even with 2-3 applications, no volume.  This is an option for someone wanting to add color to what they already have.  It did smudge, but I was willing to compromise with timely touch ups because of its incredibly low toxicity rating.  I absolutely love that the highest scoring ingredient on EWG Skin Deep database is a 2.  This was the cleanest option I have tried ingredient wise.
Overall EWG Skin Deep Rating: 1       Individual ingredients: highest rated at 3       Full Ingredient Review
Comments: Too thin of an application.  Even with 2-3 applications, it was not enough for me.  This is an option for someone wanting to add color to what they already have.  The mascara smudged easily and left me with raccoon eyes.
Overall EWG Skin Deep Rating: 3       Individual ingredients: highest rated at 4       No Review
Comments: I had to build my own EWG label for this mascara.  All ingredients rate 1 or a 2, except Lecithin at 3 and Organic Cinnamomum Zeylanicum at 4.   I am a sucker for all things Organic, so when I saw a mascara with a good portion of ingredients being Organic, I jumped on it.  Once the initial excitement wore off, the raccoon eyes and the smudging began to be slightly irritating.  As a side note, it was still too thin of an application.  No volume.
Physicians Formula Organic Wear Mascara  $6
Overall EWG Skin Deep Rating: 1       Individual ingredients: highest rated at 2       Full Ingredient Review
Comments: A good option.  As well as Physicians Formula Jumbo Lash Mascara (also rates at 1 on EWG).  First coat goes on thin, with both mascaras.  Subsequent applications do give good volume; appply, let it dry, repeat 2-3 times.  The brush on these mascaras is a light annoyance; it is not your typical brush but instead is made of silicone-like material.  Additionally, if mascara got into my eyes, it burned slightly and made my eyes water.  No joke if you are at work in a meeting.  If you are not sensitive, this is an good budget friendly choice.
Mineral Fusion Volumizing Mascara  $14
Overall EWG Skin Deep Rating: 2       Individual ingredients: highest rated at 4       Full Ingredient Review 
Comments: Probably least "clean" ingredient wise but out of sheer desperation, I picked it up at local Whole Foods thinking at least it is not AS evil as others.  This and the ZuZu mascara.  ZuZu went on as a 'primer" and a base coat followed by Mineral Fusion as a top coat.  Two coats were enough to create the volume I was looking for.  It does not clump and does not smudge, within reason.  If you are on the beach, any mascara will smudge with heat and humidity.  I have been on the beach many times wearing ZuZu followed by Mineral Fusion and it held up reasonably well but maintenance was essential.  It holds up great around town or at work with minimal intervention.  All was great but the ingredients…
The best natural and organic volumizing mascara
After years switching back and forth, compromising and wiping the smudges, I have finally found it!
Drumroll…
Dr. Hauschka Volume Mascara  $19
Comments: When a friend of a friend …of a friend recommended this mascara after expressing my frustrations, I immediately checked it out on the Skin Deep Database.   Before you click, let me point something out: EWG skin deep database is an excellent and user friendly tool but it has its flaws.  This is a perfect example.  Fragrance, Geraniol, Citronellol and Linalool are incorrectly listed as high concern because of European labeling practices – in our world these seem to be from synthetic sources, but that is not so in this case.  Dr. Hauschka brand uses only all natural plant based ingredients, and the line is certified by very stringent European Natrue and BDIH for only using natural and raw materials derived from nature and for being free of synthetic fragrances, colors and dyes.  The products are minimally processed, contain no petroleum-derived synthetics, use non-toxic productions methods; are non-GMO and use no irradiation.  The company claims to "almost exclusively obtain plants, oils and waxes from certified organic cultivation (biodynamic quality where possible) and under fair trade condition."
"NATRUE certification ensures that a product has met the strongest criteria available for natural and organic ingredients in personal care products, as verified by an independent certifier." Learn more here.
"The BDIH is an association of German product manufacturers whose "Guidelines for Natural Cosmetics" are amongst the most selective available. Following comprehensive independent testing and verification, BDIH certification is awarded exclusively to products that are free of synthetic preservatives, fragrances, colors, dyes and petroleum derived synthetics. " Learn more here.
Impressive…  I emailed the company to double check:
Q: I  was wondering what is the Fragrance in the Volume Mascara?  I am concerned because it rates high on EWG skin deep database…   What is the Fragrance made of?
A: Thanks for your email. All of the ingredients are natural. Although it is confusing that essential oils and the components of essential oils are listed as "Fragrance" which implies a synthetic source, you can rest assured that "Parfum" and or "Fragrance" are components of 100% pure essential oils. We have found that when it comes to specific details about ingredients, the EWG does not have entirely accurate information concerning our line. Therefore, while we respect and admire what they are doing, we regret that not all of their information is correct.
Still skeptical, I created my own EWG Skin Deep product label, but I removed the Fragrance as it is derived from pure essential oils (and from years of reading EWG I know they rate as a 1), and I removed  Citronellol*, Geraniol*, Linalool*, which are actually components of essential oils but because of European labeling requirements are listed separately and for us, EWG users 'seem' to be of synthetic origin.  The correct label has an overall score 2 and the highest ingredient rates at 2.
But does it work?
Yes!  It does not smudge, and does not give me mid-day raccoon eyes.  As any mascara, high humidity may be a challenge but I have gone to the beach in it and even in those conditions it held up well with minimal maintenance. Two coats give me Va-Va-Voom lashes I have been searching for!  One coat gives enough volume and is perfect for daily activities, two coats are plenty for a night on the town.
Very first few applications it goes on very thin, but expose it to air for a few seconds and after a week of use, it is perfect consistency.  Sometimes I use a brand new one as a base coat until it gets thicker and then follow up with an older for the extra volume.
Dont take my word for it.  I have proof!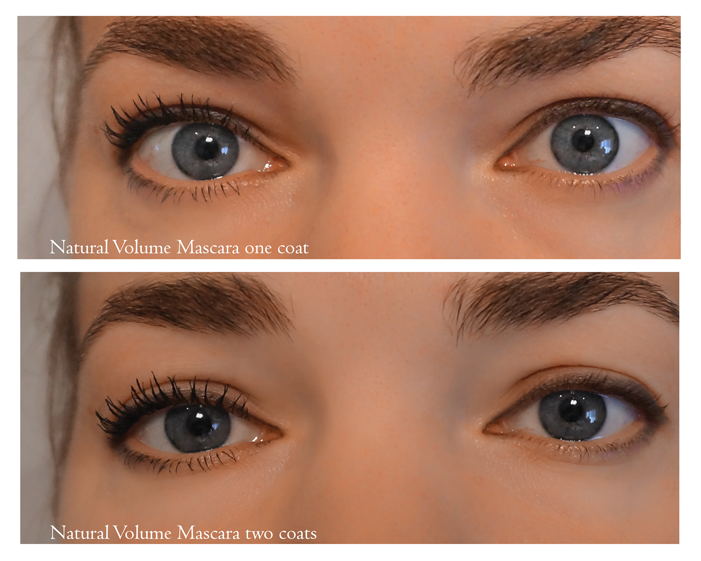 The (your) right side has no mascara at all for a true and fair comparison.
I have also tried Dr. Hauschka regular mascara, not the volume version.  It goes on very thin; if your lashes tend to clump, it is an amazing "primer" to "prepare and set" the lashes.  Following up with the Volume Mascara creates a perfect look.
Mascara is just the tip of the iceberg..  Check out my approved products list to find out what I have researched and use in my home.
Products mentioned in this article:
The best natural and organic volumizing mascara
Additional Products Mentioned: